The passage of time has been especially challenging for me to mark over the last two and half years. On the one hand, the start of the pandemic in March 2020 seems like it was just yesterday, and on the other hand, it feels like a lifetime ago. The Covid-19 pandemic, the increasingly polarized and hostile nature of our political discourse and our continued inability to find common ground – whether it be on issues of shared identity and history, or respect of different belief systems – have many across the country feeling isolated, disillusioned, and overwhelmed.
Since its inception in 2008, the Great Colleges to Work for program has been committed to finding those institutions across the country that are not only committed to faculty and staff morale and workplace quality but are also successful in those efforts. As Peter Drucker so famously said, "Culture eats strategy for breakfast." Like Drucker, we believe that being good stewards of the day-to-day experience of faculty and staff is the right thing to do by your employees. Doing so provides potentially both a competitive advantage in the never-ending search for top and diverse talent and ultimately the highest quality student experience. Recently, we have found through our program that being a good steward of culture especially requires strong skills in change management.
This year's overall results from our pool of 212 2022 Great Colleges applicants are "down," not only from the pre-pandemic 2019 levels but also from both the 2021 and 2020 results. Across the candidate pool for the program, of the 46 common survey items*, the results for 30 of the items were down by 5% points or more from 2021 to 2022. Twelve of those items regressed by 10% points or more. By way of comparison, only two of the 46 items common between 2020 and 2021 regressed by 5% points or more.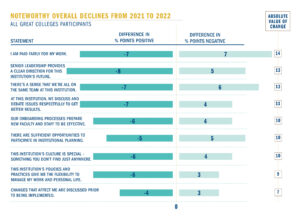 A cursory look at this list likely provides little surprise. In a time of uncertainty and instability, it's often difficult for leaders to clearly communicate a path forward…and the common refrain of "having to do more with less" without seeing any additional compensation has led to an increasing sense of inequity regarding salaries that is only further exacerbated by recent inflationary pressures. While there has been a significant increase in the focus on the holistic well-being of faculty, staff, and students, there's been no magic elixir to help achieve the elusive work/life balance.
When working with individual institutions, I find myself particularly intrigued by the responses to item #22, Changes that affect me are discussed prior to being implemented. Over the past two and a half years, the nature, scale, and frequency of "changes" that colleges and universities have faced have been unprecedented. And, as has been well-documented, some of the immediacy of these changes (e.g., moving to remote work/learning models in 2020) have not afforded the luxury of running these decisions through traditional decision-making/shared governance models. And while leaders often must act swiftly in times of crisis, there's a difference between leading in crisis and getting stuck in a cycle of focusing on "the tyranny of the urgent."
All is not doom and gloom, however. This year's Honor Roll institutions yet again provide examples of the impacts and benefits that come from being good stewards of institutional culture. Among the 2022 Honor Roll institutions, only 14 of the 60 survey items regressed by 5% points or more from 2021. Twelve of those statements are among the 46 common survey items.* And of those 14 items, only one regressed by 10% points or more – item #41 is among the 46 common survey statements across 2020, 2021 and 2022: Senior leadership communicates openly about important matters.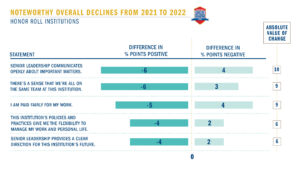 Over the years, I've regularly commented that some aspects of organizational life within colleges and universities have arrived at a certain point of staleness. While most institutions are exceedingly thoughtful about how they welcome their new students, few seem to be equally diligent or effective in onboarding their new faculty and staff. Similarly, I think many institutions have relied too long on their deeply embedded "years of service" awards and processes, to the point that now many seem like a rote process of going through the motions rather than the substantive and meaningful acknowledgement they are intended to be.
I'm inclined to add to that list a lack of awareness of, and/or commitment to, good change management practice ─the irony herein being many institutions have deep expertise in the discipline of change management, whether that be in their business schools or organizational psychology departments. Theoretically, it's also a foundational leadership competency of those at the helms of today's colleges and universities.
There are many change management frameworks from the world of academia, such as Kurt Lewin's foundational "Unfreeze, Change, Refreeze" model, William Edwards Deming's "Plan, Do, Check, Act" (PDCA) Cycle, and Dr. John Kotter's Change Management Theory. There are also excellent models from practitioners in the field of organization development such as McKinsey's 7-S Model, the Bridges Transitions Model from William Bridges and the Prosci ADKAR model developed by Jeff Hiatt. All these models have their pros and cons, and I don't subscribe to any one singularly. What they all do, however, is provide a systemic way of thinking about and managing change.
We continue to live through challenging times. And while the Covid-19 pandemic is largely a known issue at this point, its impact will continue to reverberate. As will the impact of an inflationary economy, a war in Europe, and a strained national ethos. Change is indeed constant; no doubt there will be more unforeseen changes on our horizon. And while we can't control those changes, we can control our responses and attempt to manage change in a thoughtful and intentional manner.
*Only 46 of the 60 items that comprise the 2022 Great Colleges survey are common across the 2022, 2021 and 2020 program years, as the survey was updated in 2021.