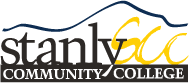 Control:

Public

Carnegie Classification:

Assoc

Institution:

2 Year

Enrollment:

< 3,000
2019 Recognition Categories
Job Satisfaction
Professional/Career Development
Supervisor/Department Chair Relationship
What makes your college a great place to work?
Presidential Statement

The quality of an institution and the success of its students are direct results of the faculty and staff that comprise that organization. Stanly Community College's faculty and staff are steadfast in their support of student success. To this end, faculty and staff at SCC are strongly committed to continuous improvement efforts to better position our students for success. We are a Great College to Work For because of our stellar faculty and staff.
Employee Comment

I appreciate that executive leadership sets a clear vision, and lower-level leadership sets clear goals to bring that vision to fruition. [...] In other words, I appreciate not being "micro-managed;" leadership makes clear the goals toward which we are working, and allows employees freedom to pursue those goals in the way that is most successful and meaningful for them.
Vital Statistics
Staff

Combined Administration and Exempt Staff:

43

Fulltime Faculty:

81

Fulltime Non-Exempt Staff:

70

Adjunct Count:

167
Average Annual Salary

Faculty:

$56,854

Administration:

$120,062

Exempt Professional Staff:

$59,480

Non-exempt Staff:

$37,138
Voluntary Turnover Rate

Full-time Faculty:

6

Full-time Staff (excluding Faculty):

10
1

Years Recognized