By Karen Kukulka, ModernThink Chief Operating Officer
In the past three years, we at Great Colleges have seen the number of respondents who reported working at their institutions for less than one year grow — from representing 5% of our total respondents to 9% of our total respondents. Comparatively, respondents with more than 25 years at their institutions steadily comprised about 5% of total respondents over that same time period. It is well documented that workers across industries, including (and perhaps, more frequently) within higher education, have been leaving their old jobs for new positions, particularly in the last year. Employees are certainly leaving for better pay, increased flexibility, more autonomy, and so forth, but they are also leaving because the economy has afforded them more job opportunities lately. Knowing this, we decided to take a closer look at who is new on campus and how these "freshmen" of sorts are perceiving, and changing, their new employers.
The largest concentration of new hires who responded to the Great Colleges survey are aged 25 to 44. These are almost entirely Millennials, though one might have guessed that Generation Z would have had a larger representation, given that they are the most recent entrants to the workforce. Not surprisingly, Baby Boomers comprise 59% of respondents who have been with their institutions for more than 25 years.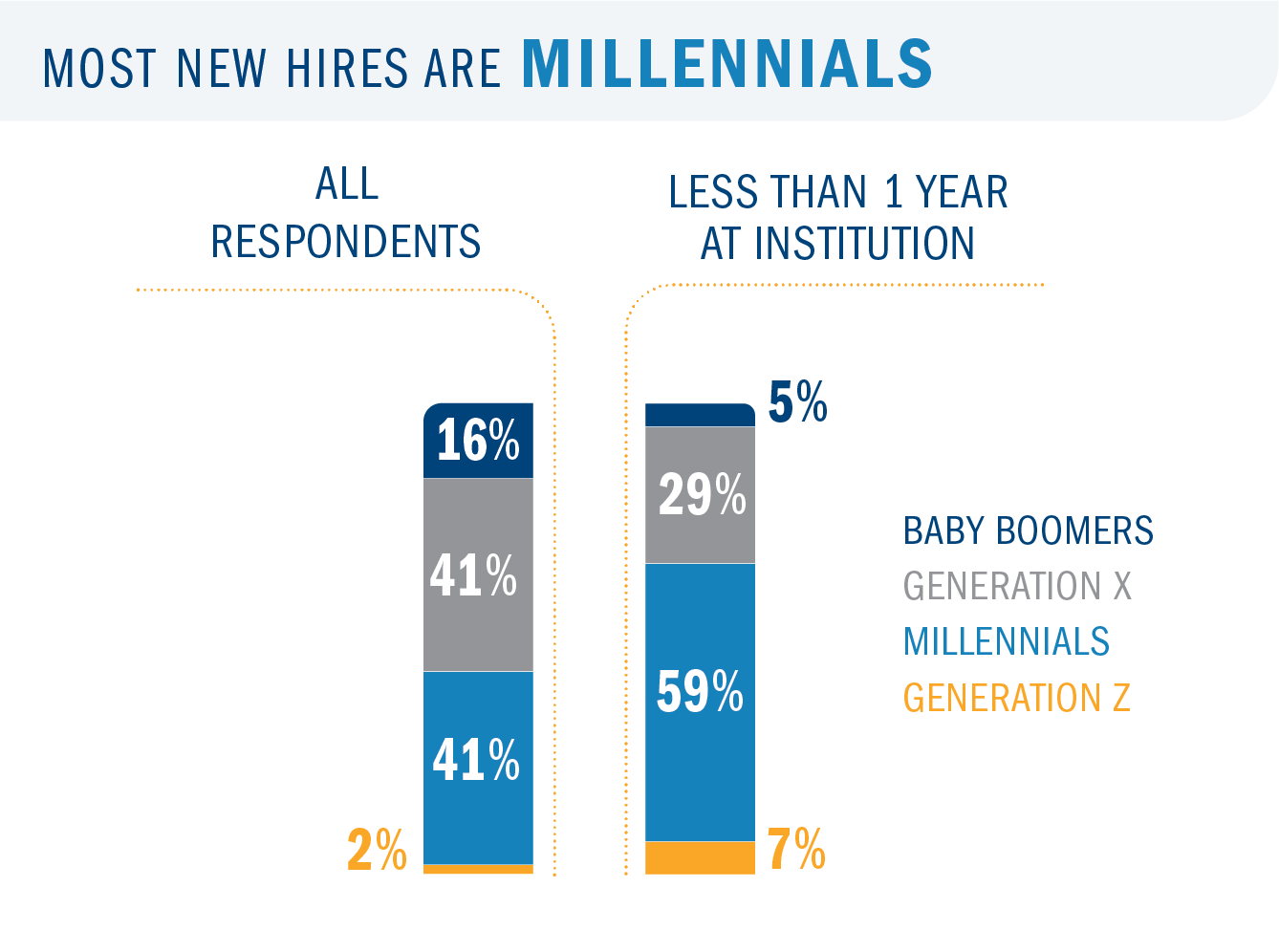 Colleges are hiring more racially diverse candidates and more women. In particular, there are 3 percentage points more Black or African American and Hispanic or Latino respondents among those who've been at their institutions for less than one year than there are among the entire applicant pool for Great Colleges. And there is a difference of 6 percentage points more Hispanic or Latino respondents among those who have worked for less than one year than those who have worked at their institutions for more than 25 years.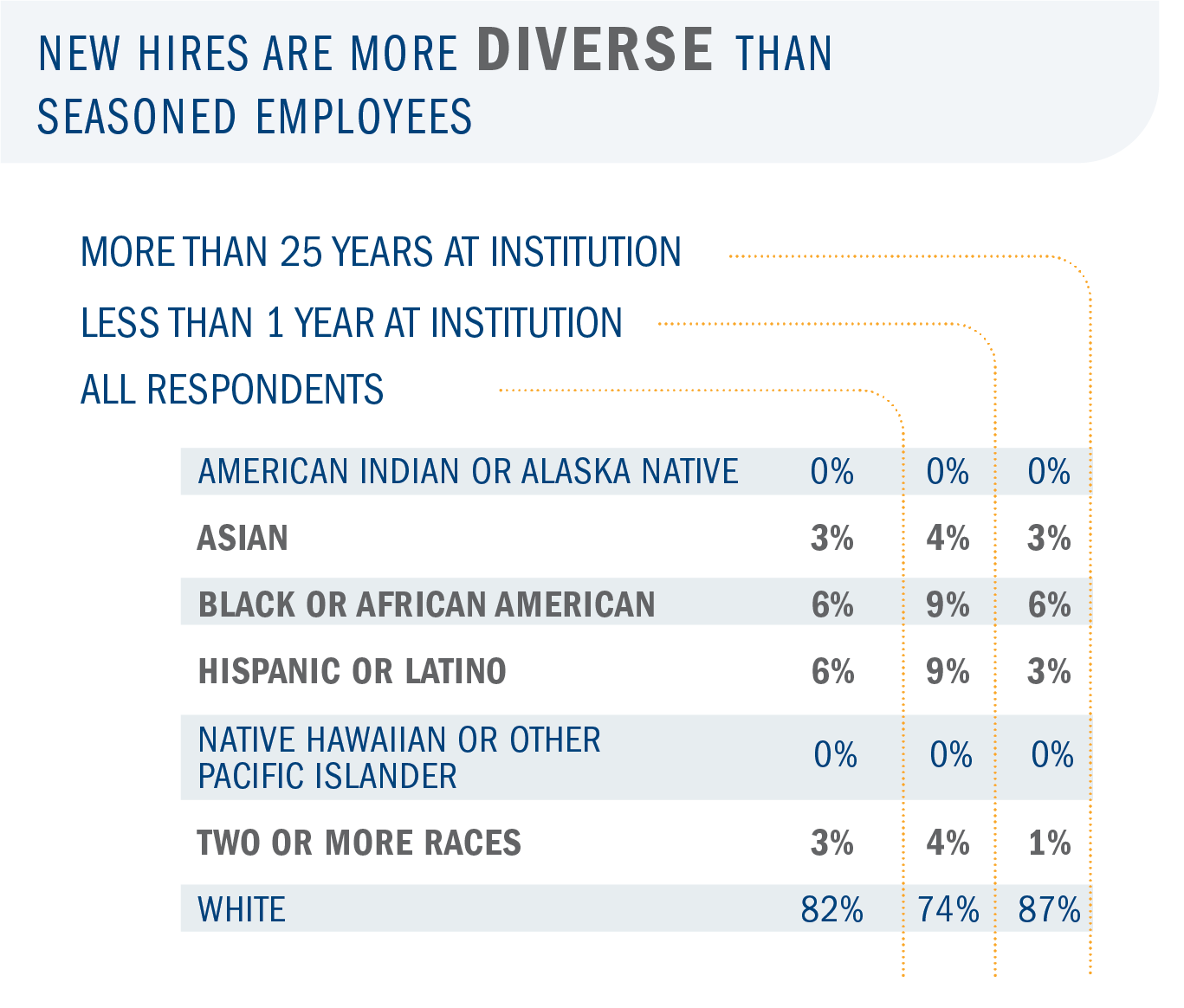 Women comprise about two thirds of the new hires we heard from, which is significantly higher than those who have worked at their institutions for more than 25 years, among whom women make up just over half of respondents.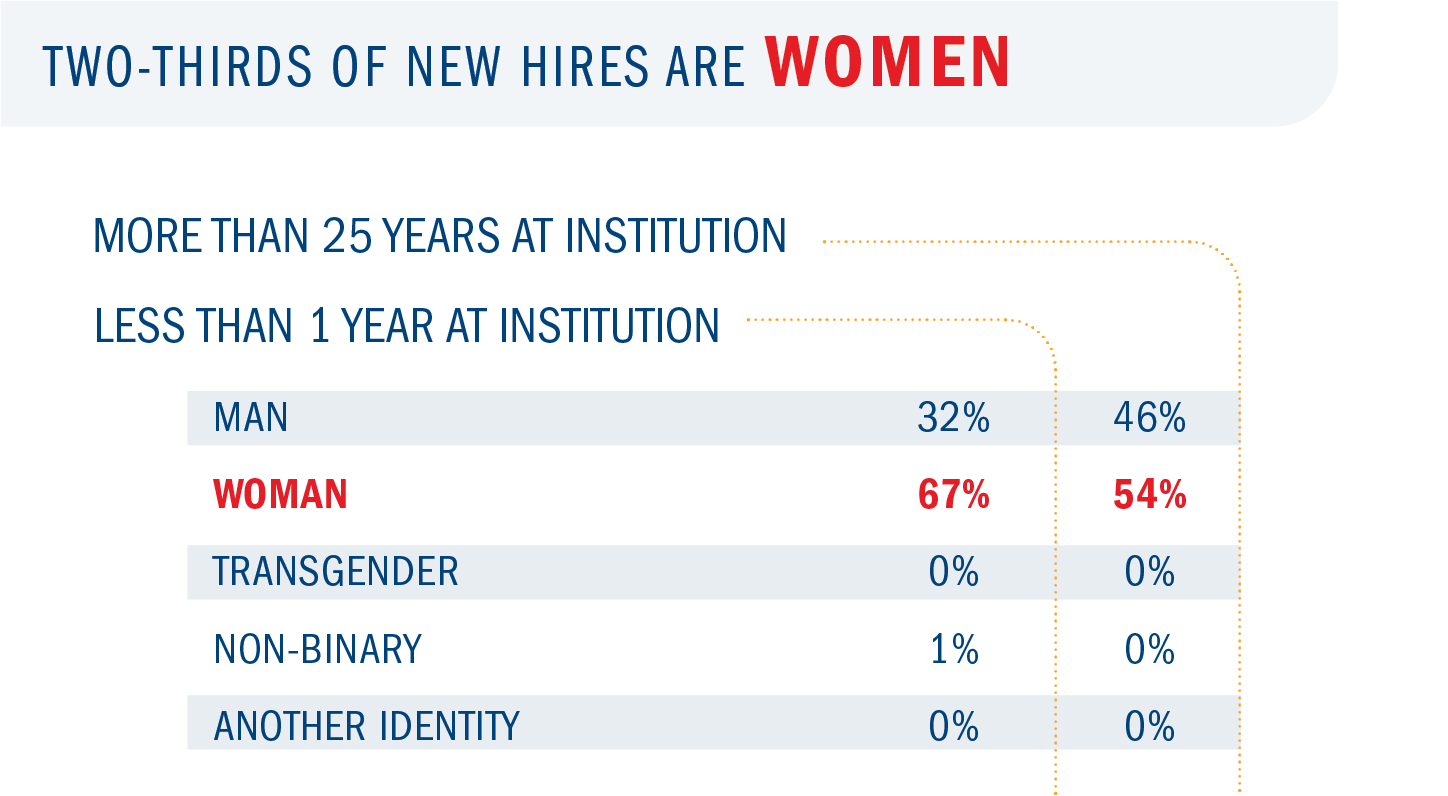 Perhaps in keeping with the fact that diversity among faculty and staff seems to dissipate with more time at their institutions, positive experiences of diversity seem to wane over employees' tenures as well – but only at non-Recognized institutions. Honor Roll institutions not only boast consistently higher scores across all statements in the Diversity, Inclusion & Belonging dimension of the Great Colleges survey, they are also able to deliver consistently satisfactory experiences to new hires as well as respondents who reported working at their institutions for more than 25 years. Among non-Recognized institutions, new hires report markedly more positive experiences than their colleagues with 25 years or more of experience, with the highest margin at 13 percentage points for item #38, This institution has clear and effective procedures for dealing with discrimination. Those who have been working for less than one year report slightly more positive experiences at both Honor Roll and non-Recognized institutions than those with 25 years or more at their institution.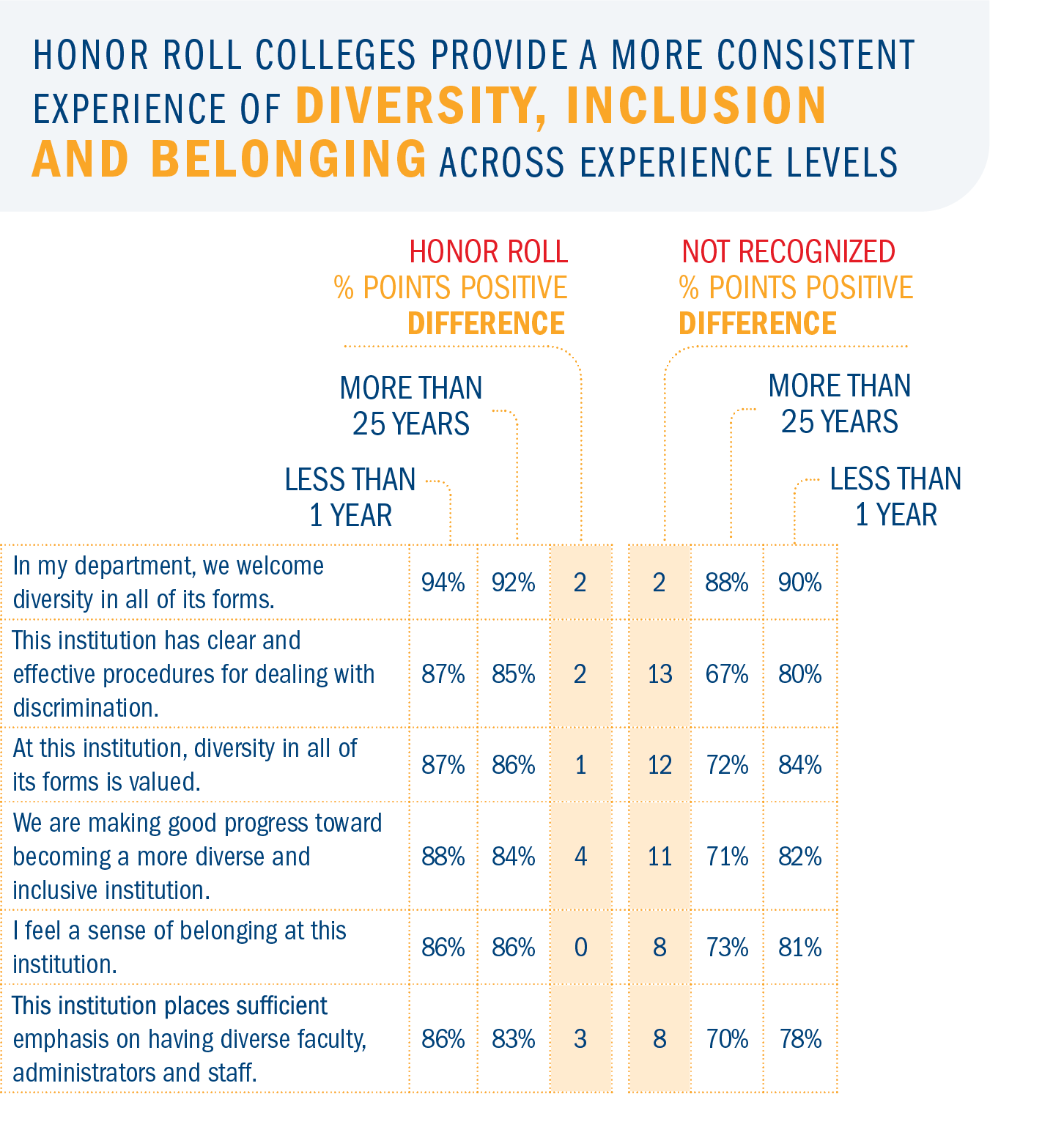 Across the experience levels, faculty and staff report highest satisfaction with their vacation/PTO and medical benefits, with tuition reimbursement/remission for employees ranking highly as well. New hires and more seasoned employees also report similar dissatisfaction with employee recognition programs, professional/career development programs, and paternity and maternity leave policies.
It is interesting to note that when we asked respondents to rate their overall satisfaction with benefits, they reported universally high scores, with 74% to 83% of respondents across experience levels reporting they were "Satisfied" or "Very Satisfied." But when we average the actual percent positive responses across the 19 specific benefits we actually assess on the Great College survey, those scores are significantly lower between 6 and 11 percentage points. The difference between perceived overall satisfaction and actual overall satisfaction is more significant among those with 21 years or more at their institutions, and lowest with only two years or less at their institutions.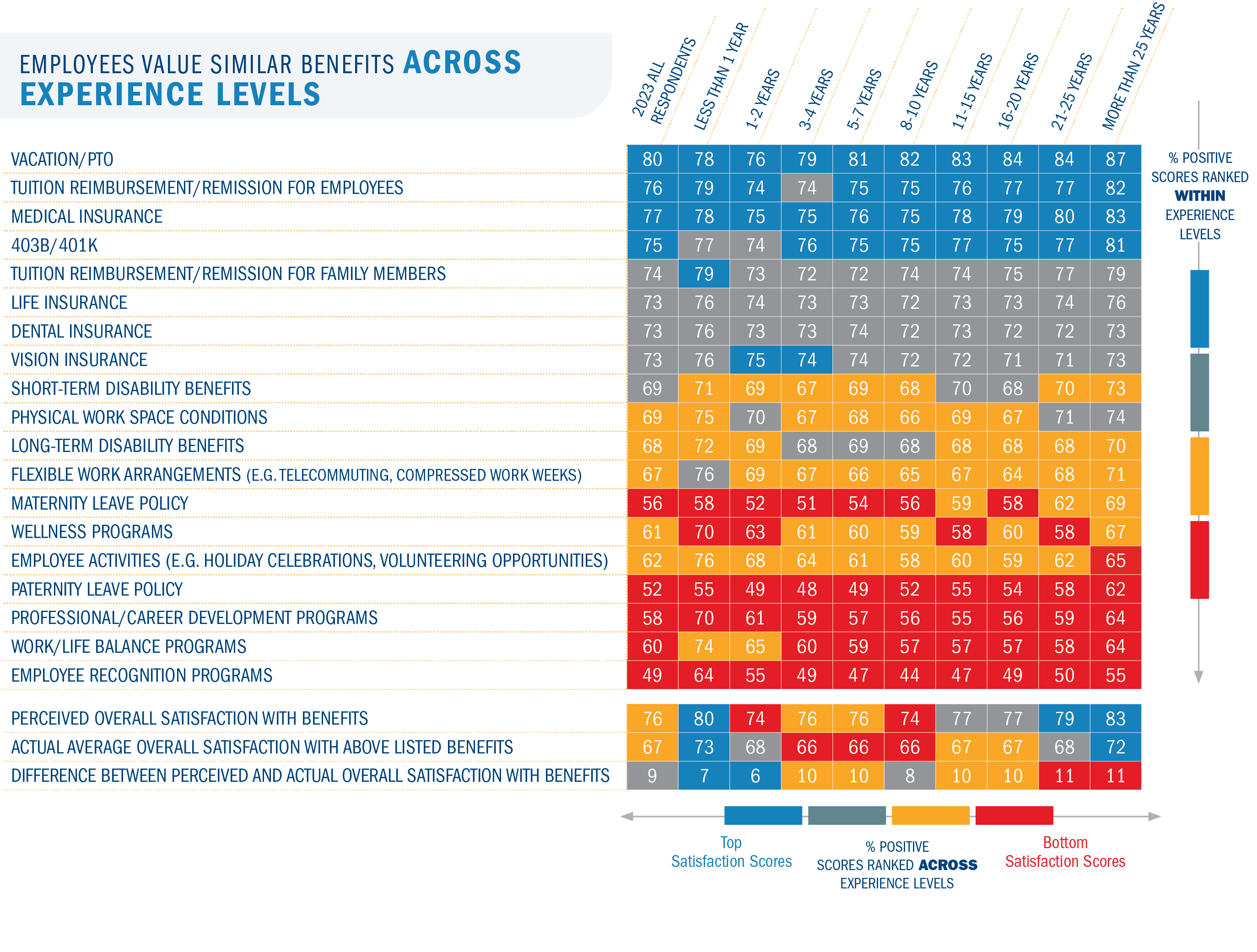 While it is heartening to see that colleges are being more intentional about hiring diverse candidates, more is required of the policies and practices intended to engage those new hires in order to stem turnover rates. This largely Millennial group will require an ongoing experience of belonging that extends throughout their careers and is guaranteed by anti-discrimination procedures and inclusion practices codified by leadership – not just at some of the best places to work on the Great Colleges Honor Roll, but at every college. Benefits that extend beyond the fundamental medical coverage to those that demonstrate care for the individual are also critical engagement tools, as important to new hires as to more seasoned employees. Programs for employee recognition, work/life balance, professional development, and wellness should be thoughtful and consistent over the course of employees' tenures to bolster engagement and ward off turnover. Hiring and training are expensive endeavors. Freshening policies and practices to align with this wave of new hires will serve to protect your investment long term.